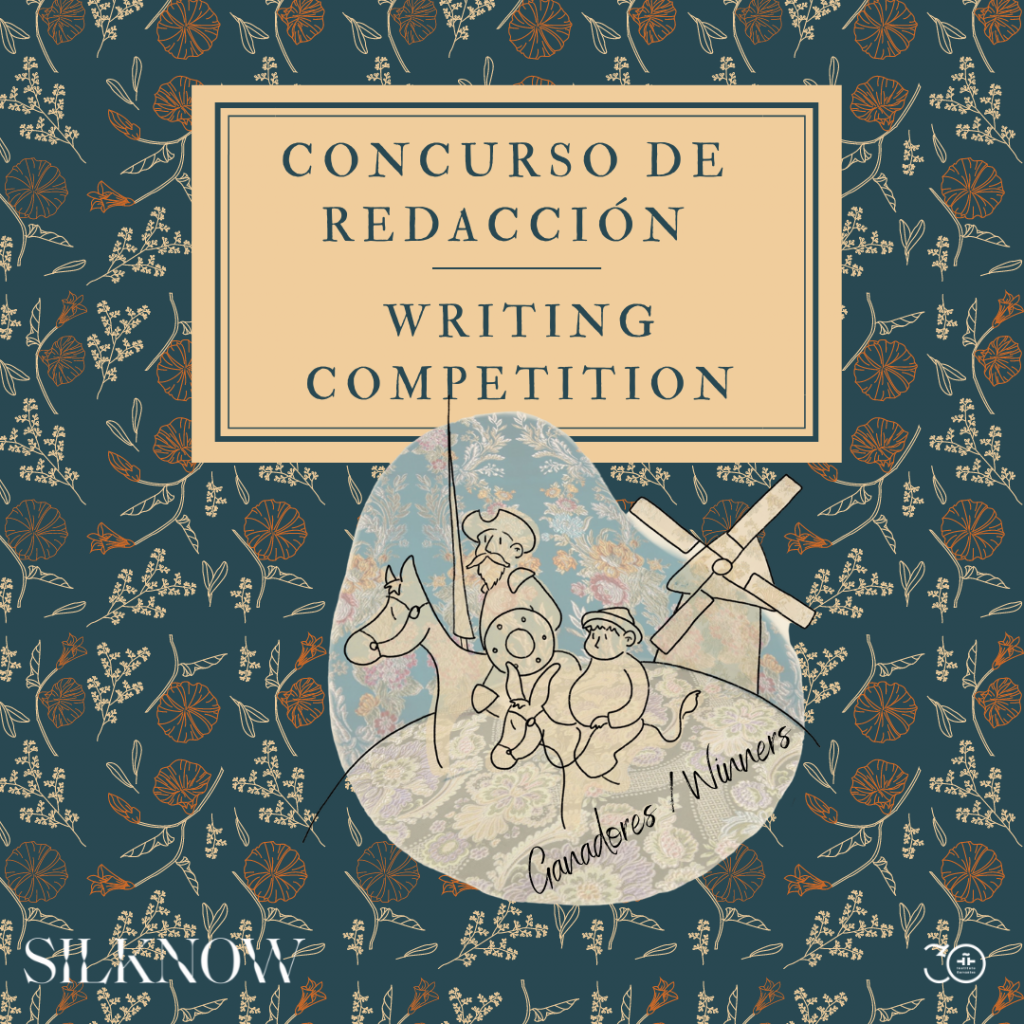 Silk heritage is much more than textiles, it includes ideas, innovations and, of course, language exchange. To demonstrate this, SILKNOW, through its partner Instituto Cervantes, launched a literary competition inviting students at A2-B1 level to write a text inspired by the teaching materials "La Ruta de la Seda".
In this compendium we present the winners of the competition. They have spun words through Spanish, weaving the past into the future.
AUTHORS LYON CENTRE:
My silk grandmother. Catherine de Coster. 1st prize.
When the Silk Road passes in front of your house. André Lauga. 2nd prize.
The silk scarf, a fashion accessory? Sylvie Thiault. 3d prize.
AUTHORS MANCHESTER CENTRE:
The Silk Road. Anonymus. 1st prize.
Silk and Spanish connect the world. Anonymus. 2nd prize
AUTHORS WARSAW CENTRE:
A paradise of colours. Ewa Ayton. 1er premio.
The Silk Road Journey Part I – Venice Martín Rodal Martínez. 2nd prize.
Dear Maria: letters from a traveller to his girlfriend. Anonymus. 3d prize.
---
Ganadores concurso redacción SILKNOW- Instituto Cervantes
El patrimonio de la seda es mucho más que los tejidos, incluye ideas, innovaciones y por supuesto, intercambio de idiomas y evolución del lenguaje. Para demostrarlo, SILKNOW, a través de su socio, el Instituto Cervantes, convocó un concurso literario invitando al estudiantado nivel A2-B1 a escribir un texto libre que estuviera inspirado en los materiales didácticos «La Ruta de la Seda».
En este compendio presentamos a los ganadores del concurso, quienes a través del español, han hilado palabras, tejiendo el pasado hacia el futuro. 
AUTORES CENTRO LYON:
Mi abuela de seda. Catherine de Coster. 1er premio.
Cuando la ruta de la seda pasa delante de tu casa. André Lauga. 2do premio.
El pañuelo de seda, ¿un accesorio de moda? Sylvie Thiault. 3er premio.
AUTORES CENTRO MANCHESTER:
La ruta de la seda. Anónimo .1er premio.
La seda y el español conectan el mundo. Anónimo. 2do premio.
AUTORES CENTRO VARSOVIA:
Un paraíso de colores. Ewa Ayton. 1er premio.
Viaje por la ruta de la seda parte I – Venecia. Martín Rodal Martínez. 2do premio.
Querida María: cartas de un viajero a su novia. Anónimo. 3er premio