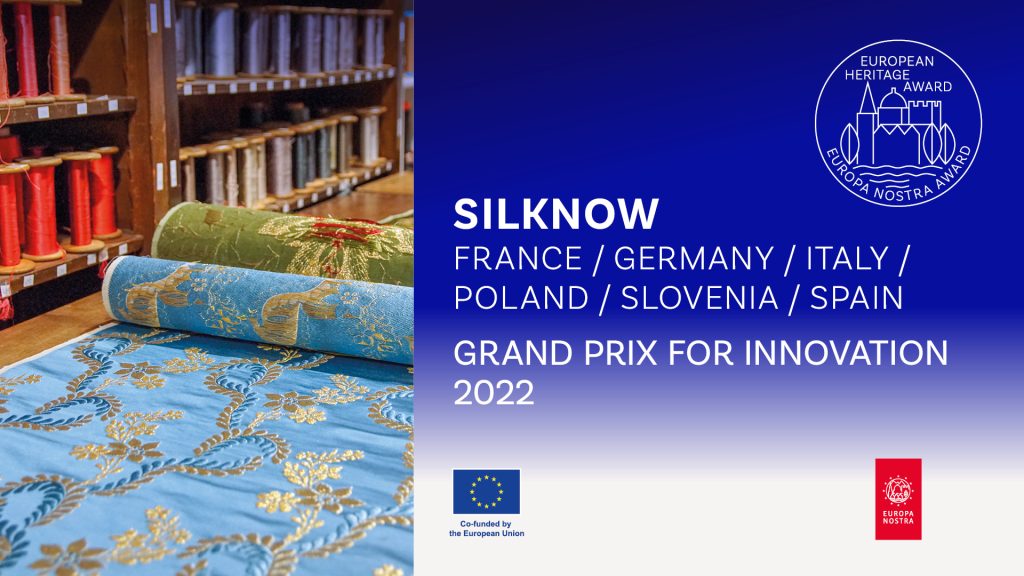 SILKNOW was laurated with the Grand Prix award for Innovation in presence of the Mariya Gabriel, European Commissioner for Innovation, Research, Culture, Education and Youth, Hermann Parzinger, Executive President of Europa Nostra, and Ondřej Chrást, Deputy Minister of Culture of the Czech Republic, on behalf of Minister Martin Baxa. The ceremony assembled some 600 heritage professionals, volunteers, lovers and supporters from across Europe, including a large group of young people.
The winners of the 2022 European Heritage Awards / Europa Nostra Awards, Europe's top honour in the field, were celebrated with a prestigious ceremony held at the iconic State Opera of Prague.
"SILKNOW has created an innovative system to facilitate the transfer of the knowledge of silk weaving. This project represents an important example of how crafts, and therefore intangible heritage, can be linked to digital tools and how these tools can be used to democratise access to technical knowledge. The project's machine-learning thesaurus is particularly interesting and has the potential to be applied in other areas of research," stated the Awards' Jury.
From 2018 to 2021 we produced digital tools beyond current technologies to improve our understanding and conservation of European silk heritage. SILKNOW helps preserve the intangible heritage of ancient weaving techniques by using pre-existing digitised information about silk to study, showcase and preserve silk digital collections. Users can access the collections through an exploratory search engine, spatio-temporal maps and 3D visual and tangible simulations. This broad approach is made possible through the close cooperation of a multidisciplinary team with a wide range of expertise.
We have woven a network with different users, from museums to young designers, from technology to traditional industries. Community, identity, history…Tangible and intangible experiences, technology, knowledge, arts and crafts inherited generation after generation. Let's keep weaving our past into the future.
SILKNOW Partners:
Universitat de València, GARIN 1820 S.A. and the Instituto Cervantes, from Spain; Centre National de la Recherche Scientifique – Lyon 2 and EURECOM, from France; Universita Degli Studi di Palermo, from Italy; Institut Jozef Stefan, from Slovenia; Gottfried Wilhelm Leibniz Universitaet Hannover, from Germany and Monkeyfab, from Poland, have participated in SILKNOW.
SILKNOW Activities:
Conferences, exhibitions, fashion catwalks, training and capacity building programs, publications.