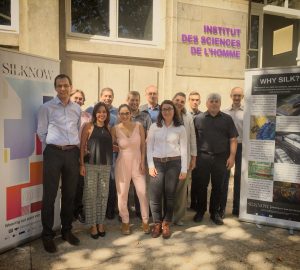 On the 10th and 11th of September, SILKNOW held its second meeting in Lyon, France. It was hosted by CNRS-LARHRA, a project member, at the Maison des sciences de l'Homme Lyon.
The meeting was attended by leading institutions of the Lyon textile world, such as the Musée d'Art et d'Industrie Saint-Etienne, the Musée des Tissus de Lyon, the Musée de Bourgoin Jailleu and the Denis & fils SAS or the the Tissages Perrin . The Service Patrimoines et Inventaire général- Direction de la culture et du patrimoine- Région ARA, the President of the Commission Qualité et Technique d'Intersoie France and the Director of the Instituto Cervantes center in Lyon were also present at the meeting.
During the meeting, both museums and creative industries highlighted the impact that SILKNOW will have in their institutions. For SMEs, it will provide new ways of access to historical pieces that can provide inspiration for contemporary creativity, as well as the preservation of traditional weaving techniques and the know-how associated to them. For museums, on the other hand, the project will improve access and preservation of silk heritage through the standardization of terms thanks to a multilingual thesaurus. In short, SILKNOW will preserve and disseminate silk heritage by weaving the past into the future.
Finally, during the internal sessions, all partners reported on progress of the entire project and each work package. The main tasks during the upcoming months are automated image analysis and the multilingual thesaurus, two of the key milestones in the project.