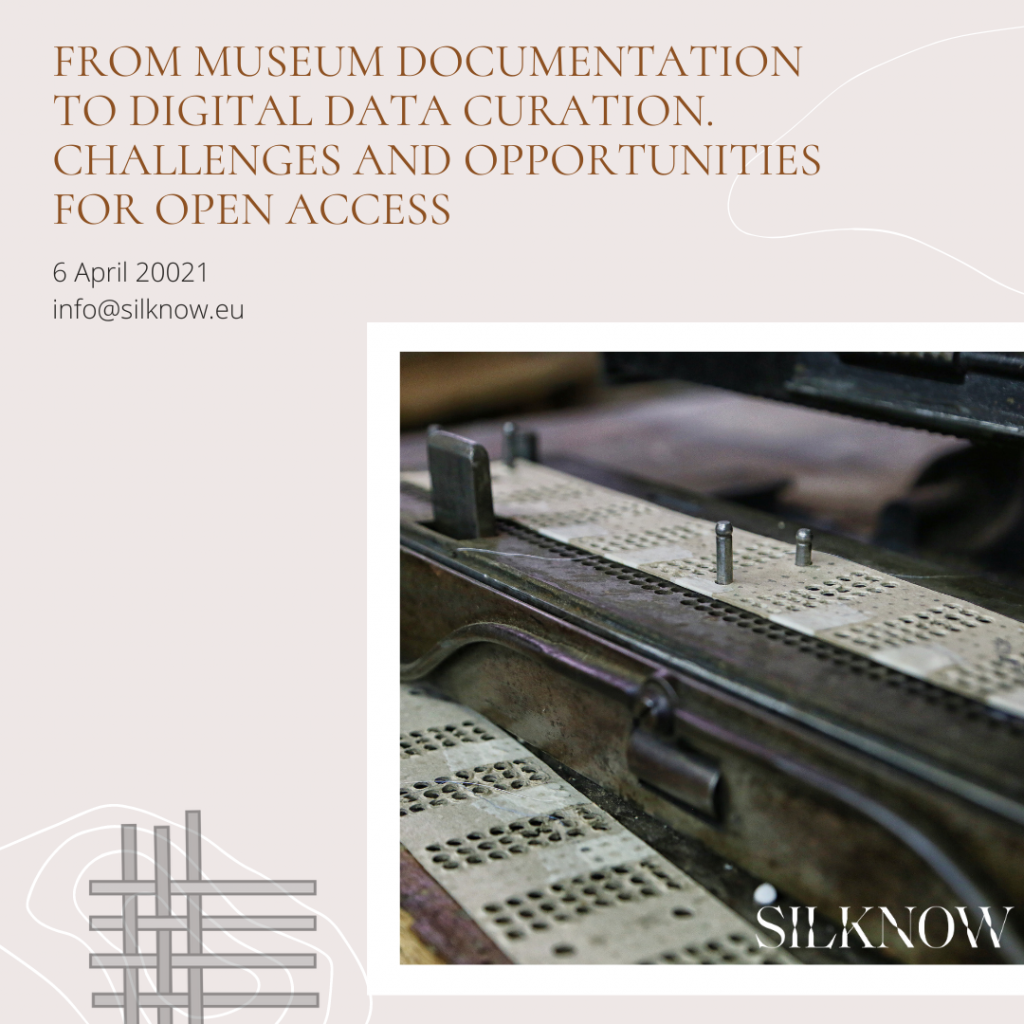 Cultural heritage organizations produce a vast quantity of heterogeneous datasets which are often held inside their walls and are not open to the public. Even when they are, sometimes they are not easily accessible, for technological and organizational reasons. This has led to the loss of information essential both for the general audience and researchers. The problem gets worse when dealing with textile collections that require a high specialization to document and conserve them.
SILKNOW aimed to provide answers for some of these challenges, thanks to digital tools and approaches, combined with scholarly expertise (from silk specialists, art historians and historians, textile engineers…). One of its goals was to provide methods and best practices for heritage institutions that want to take their textile collections into the information and knowledge society. It pays particular attention to institutions that lack the technical resources and staff to venture into ICT and research.
Three workshops were held where the ultimate goal is to develop together a document of good practices in textile conservation.
The first workshop was held on 15th February 2021. It was attended by 13 professionals specialized in textile collections, some of them coming from 8 Spanish museums, such as:
The second workshop was held on 25th February and was carried out in Italian. It gathered representatives from 9 small museums, all of them belonging to Catholic dioceses:
Museo Basilica San Sebastiano
The third workshop was held on the 6th April, and gathered participants from Europe, America and Asia. The 15 attendees included representatives from 9 museums and one EU-funded research project, plus 2 independent scholars, including:
Museo Textil de Oaxaca, Mexico
Philadelphia Museum of Art, United States
Haus der Seidenkultur, Germany
The Metropolitan Museum of Art, United States
Klosterkammer Hannover, Germany
Olympic Foundation for Culture and Heritage, Switzerland
Fachhochschule Potsdam, Institute for Urban Futures, Germany
State Silk Museum, Georgia
Centre for Textile Research, University of Copenhagen, Denmark
Museu Nacional do Traje, Portugal
Luba Nurse, independent scholar
Luisina Silva, independent scholar