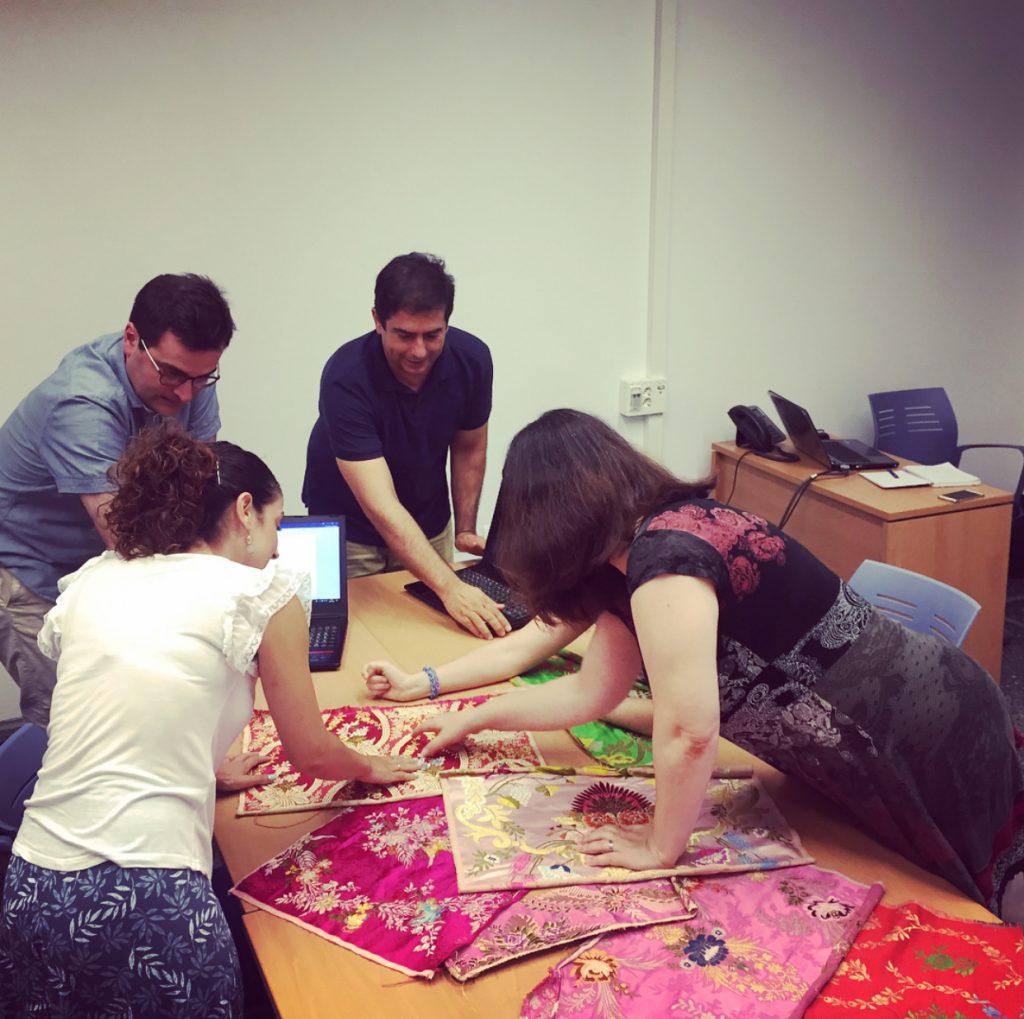 The SILKNOW's VL was not an easy task to perform, it took more than a year to make it available. It was only thanks to the interdisciplinary work that is characteristic of SILKNOW that it was feasible to create it. The definition and modelling of weaving were possible thanks to a tight collaboration among ICT and SSH partners of the SILKNOW consortium: from art historians to informatic engineers to craftsmen. Additional advice on the weaving techniques has been received by collaborating institutions, such as CDMT. Finally, UVEG has also performed an optical study on four silk pieces provided by GARIN, which were weaved with a Jacquard Loom following traditional designs.
Arabella León, a researcher from GARIN 1820 & Pablo Casanova, IT from UVEG explain to us their main challenges when dealing with the VL.
What were the main challenges as an art historian for its research and design?
As a textile conservator, the main challenge I found when developing the VL was to translate into "ICT words" textile terminology. To translate historical weaving techniques into software was challenging because it needed to be extremely accurate: to make an image looked like it was weaved was an easy task, however, to weave a textile with its original weaving techniques and weaves were complicated. Nevertheless, after much research and experiments, we achieved it.
For ICT, what were the main challenges for its design and implementation?
It was challenging to design a graphical user interface able to embed the techniques, weaves, type of yarns, etc while making the tool easy-to-use. For instance, integrated into the VL, we have an image analysis procedure, to automatically subtract the original design of the fabric or the technical drawing. This needs some actions from the user, but we have managed to keep it to the minimum requirements, so users only need to select the number of yarns. Then, the tool automatically discerns among different areas, for the user to select the colours and types of yarns. In that way, the image analysis procedure is hidden for the user, which only needs to focus on the visual appearance of the fabric virtual model.
What is the added value of the VL for silk conservation?
Accurate knowledge of the techniques is essential for conservation, with the VL this will be easily accessed. It is very useful to be able to see how a piece of fabric is woven without having to manipulate it since on many occasions this is impossible as their state of conservation is extremely fragile. On the other hand, museums do not have a standardized procedure to catalogue their assets. This is a problem because the heterogeneity of the records does not always provide enough information to be able to analyze a textile without accessing it. The VL will facilitate this research.
Don't miss the whole video here